By Sally Cameron – professionally trained chef, recipe developer, author, speaker, and certified health and nutrition coach
Juicy and golden, rotisserie chicken is the best of hands-off summer grilling. Never tried this easy cooking method? Here's my step-by-step guide on how to rotisserie chicken. Don't buy it at the store. Do it yourself and enjoy the mouth watering aromas in your own backyard. This works for both a gas grill and a wood-fired pellet grill with attachment.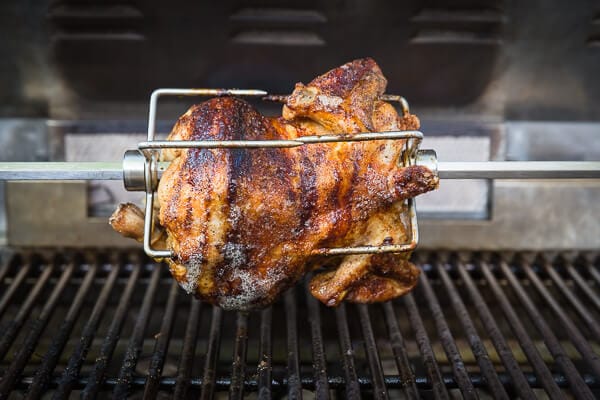 Rotisserie Chicken Versus Oven Roasted Chicken
Both provide delicious results, and both are a roasting method, just different tools. In chilly weather I oven roast a whole chicken weekly. Oven roast chicken takes about an hour.
Rotisserie roast chicken takes about 1 ½-2 hours. Put the chicken on the grill and walk away, but check occasionally. Before long you will have a gorgeous bronze bird for dinner.
Rotisserie Chicken for a Gas Grill or Pellet Grill
I originally wrote this post for my gas grill, but now have a wood-fired pellet grill. This works for both.
If you have a pellet grill with rotisserie attachment, the only change is this: smear the bird with a light coating of mayonnaise instead of olive oil. I know that sounds strange, but trust me. Season the chicken well and proceed. Set your temperature at 400°F and be sure the hopper is full of good hardwood pellets.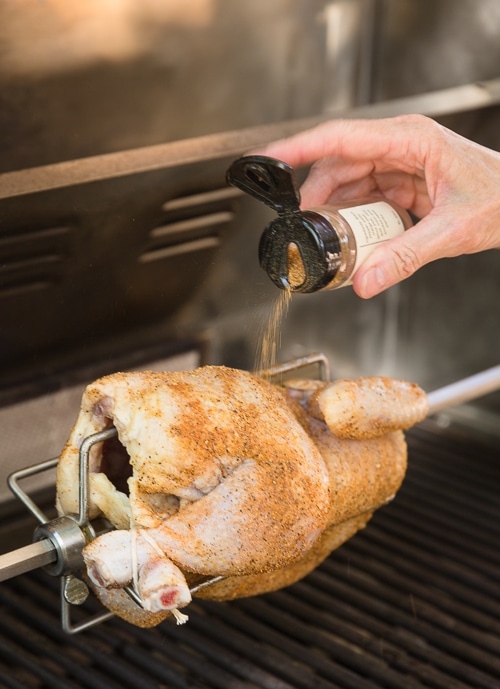 What is Rotisserie Chicken
Rotisserie is a style of roasting. It's easy to do at home on a grill with a rotisserie attachment. The whole chicken is skewered onto a spit (a long metal rod) and secured with prongs, then roasted while the bird slowly rotates. The rotation provides even, gentle cooking and self-basting. The skin turns a deep, golden bronze and the meat stays juicy and tender.
Step by Step for How to Prep a Rotisserie Chicken
I usually buy a 4 – 4 ½ pound organic chicken. This size will serve four to five for dinner. For us two it means dinner plus great leftovers for lunch through the week.
Ready The Chicken
Remove the chicken from the refrigerator 1 hour prior to roasting to get the chill off.
Discard any little bag of innards, rinse the bird inside and out and dry with paper towels.
Remove any extra fat around the neck cavity and bend wing tips back under the bird.
Season and Flavor the Chicken
Season the inside of the bird with a sprinkle of the seasoning you plan to use on the outside of the bird.
Stuff the cavity with half a chopped onion, a few peeled and crushed garlic cloves and a few sprigs fresh thyme, rosemary and a bay leaf. A wedge of lemon or orange is nice too.
Rub the outside with olive oil (or mayo) and sprinkle generously with your seasoning, turning the bird to coat evenly.